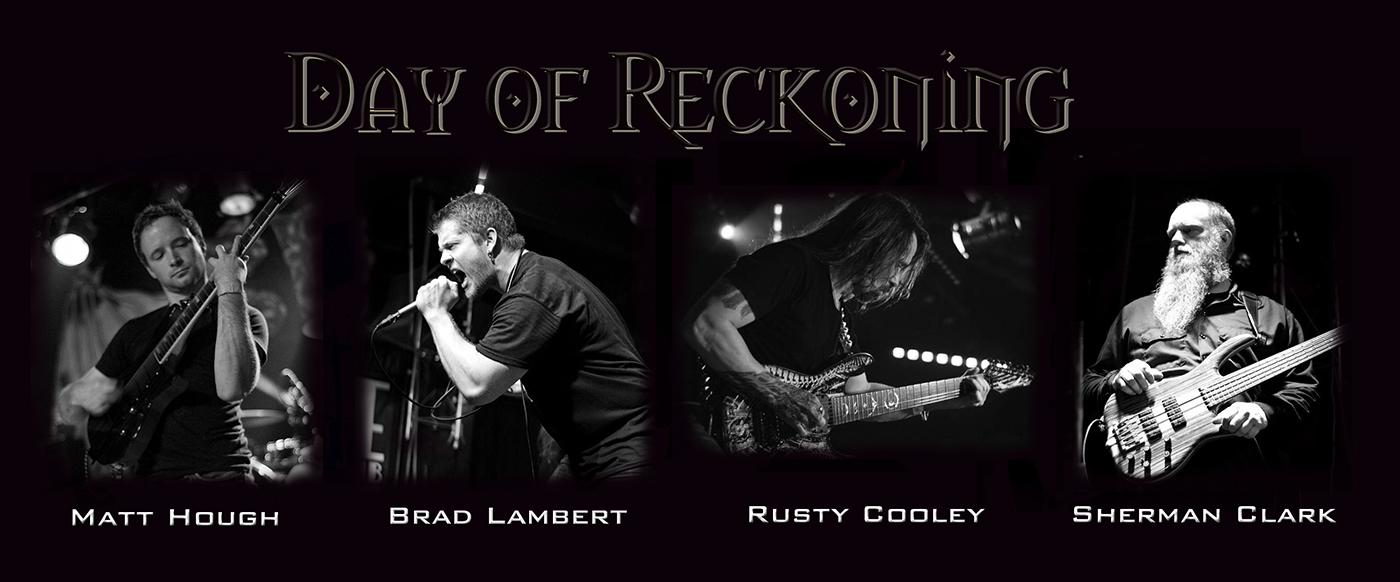 The long anticipated return of Rusty Cooley has arrived with his band Day of Reckoning and the release of their new album "Into The Fire".  The album is set to be released as two EP's (part 1 & 2) each featuring five intense metal tracks. Part 1 will be released to the world this Thanksgiving (November 26th, 2015) but hard copies of the album will be available early on November 21st, 2015 during the "Thanksgiving Metal Massacre" show. DoR will share the stage with Marzi Montazeri and Tim "Ripper' Owens at BFE Rock Club in Houston Texas.   
Day of Reckoning was formed in 2010 following the breakup of Cooley's former band Outworld.   Stylistically, Day of Reckoning has a brutally straight ahead approach that incorporates elements of Cooley's progressive metal past.  The current album draws from various metal sub genres such as thrash, speed metal, metalcore, death metal, as well as others.  
 In addition to Cooley, Day of Reckoning's lineup includes:
Matt Hough (guitarist) – A North Texas graduate who is a former student of Cooley's.  Hough also professionally performs and composes jazz and classical music. 
Sherman Clark (Bass) – An accomplished bassist who was featured in several projects throughout Houston prior to joining Day of Reckoning.
Brad Lambert (Vocals) – A Houston studio co-owner, engineer, and session musician featured in several Houston music projects. Lambert was selected for an audition following a guest feature that Cooley played on during a live performance.  
Day of Reckoning is presently in the process of hiring a permanent drummer, who will be announced in the Spring of 2016.  The current album utilizes the services of, former Outworld drummer, Matt Smith.  With the help of drummer Adrian Galindo (Aegis, Await The Desolation) Day of Reckoning is excited to release their new album.  It has been in production for the last two years and faced many delays through various personal struggles of the band.  However, they are pleased to announce that they are finally ready to unleash it onto the world.

Wow! Amazing Rusty! You're one sick MoFo! Just super crazy shred bro. Awesome! The new "Day Of Reckoning" sounds great! Rusty's playing is just insanely over the top and he continues to show the world that super-shred is not dead!
– John Petrucci – Dream Theater
"Be sure to check out Day Of Reckoning's new single, it's brutal without losing its solid melodic core."
– Mark Tremonti
Dude this is badass. It's refreshingly METAL, heavy chunky guitars, mean riffs, violent drums… that solo section in the bridge is pants-shittingly cool too. Burly as all hell. Can't wait to hear the rest of the album!
– Dave Lizzio Non Point
"Left to Follow – what a kick ass Fun Rocking song! Mad Energy for days, and instantly catchy in all the right ways.  The musicianship is impeccable, and full of fire. This tune was so much high energy Metal fun that I nearly forgot it was undoubtedly going to have a guitar solo. And what a fucking explosion – HOLY FUCKING SHIT.  Completely over the top shredding – enough guitar insanity to melt even the most jaded of faces, even after repeated listening's. Day of Reckoning is UNDENIABLE.I can't wait to hear the rest of the CD. "
– Karl Sanders of Nile
"There are very few guitarists that can shred with razor-like precision and taste; Rusty Cooley is one of those guitarists."
– Paul Riario, Technical Editor, GUITAR WORLD MAGAZINE
Just listened to your song several times f***** awesome! Seriously. The song is brutal your singer is great! A perfect fit for your music your solo was amazing too! Killer diminished arps and everything before and after that. Congrats!
– Michael Angelo Batio
"Fucking Ripping"
– Phil Demmel of Machine Head
Day of Reckoning just blew my brains out! Great songwriting-great performance-great production and very INTENSE music!!! These are the elements that make you wanna check a band out, but if you add Rusty Colley in those elements then you need to check them RIGHT NOW! GREAT stuff!!!!"
– George Kollias of Nile
"A crushing blend of fury and technicality. Stunningly modern and completely unapologetically american sounding. Rusty's playing is next level and sure enough to have your ears bleeding after one listen."
– Mike Schleibaum of Darkest Hour
Left to Follow from Day of Reckoning is the perfection of 7 string, fast, technical, catchy and punishing metal.
– Jacky Vincent
 "Left To Follow" is viciously heavy and intense! Great hook in the chorus. Smokin' hot solo and searing tones throughout! Day Of Reckoning is well worth the wait!"
– Dave Reffett (Guitarworld.com, Revolver.com, Guitaraficionado.com, Solo Artist, Dangerous Guitar, Shredding The Envelope)
Over the top guitar playing with absolute fire. No surprise it's Rusty Cooely. I've known how incredible and dedicated he's been for some time, now the world can hear for themselves..
– Marzi Montazeri
"Rusty Cooley's Day Of Reckoning. melodic yet punishing, this collects the elements of all the greats into a single package. A modern masterpiece from a true metal master."
– Matt Bachand of Shadows Fall